[ad_1]

CHILD DEVELOPMENT PROJECT OFFICER POSHAN BANDIPORA ADVERTISEMENT NOTICE NO 03 OF 2023.
______________________________________________
Disclaimer:-
We, at Jehlum, only post jobs/scholarship updates on behalf of employers/universities. We are only advertisers and as such, we DO NOT know anything about these updates apart from whatever you find in the description of these posts on our website. Our viewers/subscribers are requested not to contact us in order to apply for the jobs/scholarships. Procedures to apply on these jobs/scholarships are already mentioned in the description on our website and everyone is requested to do as directed, in the description, in order to reach out to employers and/or apply for such posts.
In order to stay updated about future jobs/scholarship opportunities, keep checking our WEBSITE(WEBSITE) on a daily basis OR to receive these notification updates on your phone, join our TELEGRAM CHANNEL. Also, for the information of our viewers, we DO NOT HAVE ANY WHATSAPP GROUP, so please don't bother asking about the same. Thanks in advance. You could also follow us on Linkedin/ INSTAGRAM(INSTAGRAM) if you prefer the social media over messaging apps and websites.
=========================================
GOVERNMENT OF JAMMU AND KASHMIR
OFFICE OF THE CHILD DEVELOPMENT PROJECT OFFICER POSHAN, BANDIPORA Advertisement Notice: No: 03 of 2023
Dated: 03.10.2023
Subject: Advertisement for Recruitment of Sanginis (Anganwadi) Workers) and Sahayikas (Anganwadi Helpers) in Anganwadi Centres of POSHAN Project Bandipora.
Under Phase 2nd.
Reference: 1.Goverment order No 222-JK(SWD) of 2022 Dated:30.11.2022
2.Govemment Order No.103-JK(SWD) of 2023 dated: 28.04.2023
Approval has been accorded, vide letter No: 103-JK (SWD) of 2023 Dated: 28.04.2023 for filling up of various vacancies of Sanginis (Anganwadi Workers) and Sahayikas (Anganwadi Helpers) in Anganwadi Centres of POSHAN Project Bandipora as per the details given below:
Sr. No
. Name of Project
Name of Post
No. of Post
1
Bandipora
AWW
07
AWH
9
Total
16
Applications are invited in the Prescribed Performa in Annexure "A" from the eligible candidates for engagement as Anganwadi Worker and Anganwadi Helper on
Honorarium basis for aforementioned posts of Anganwadi Centres. The important dates/details with regard to the posts are as under. a) Date of commencement for submission of application 03.10.2023
b) Last date for submission of applications is 17.10.2023 c) Annexure B-Name of the Post, Location/Ward, Qualification and Criteria for selection
d) Annexure – Affidavit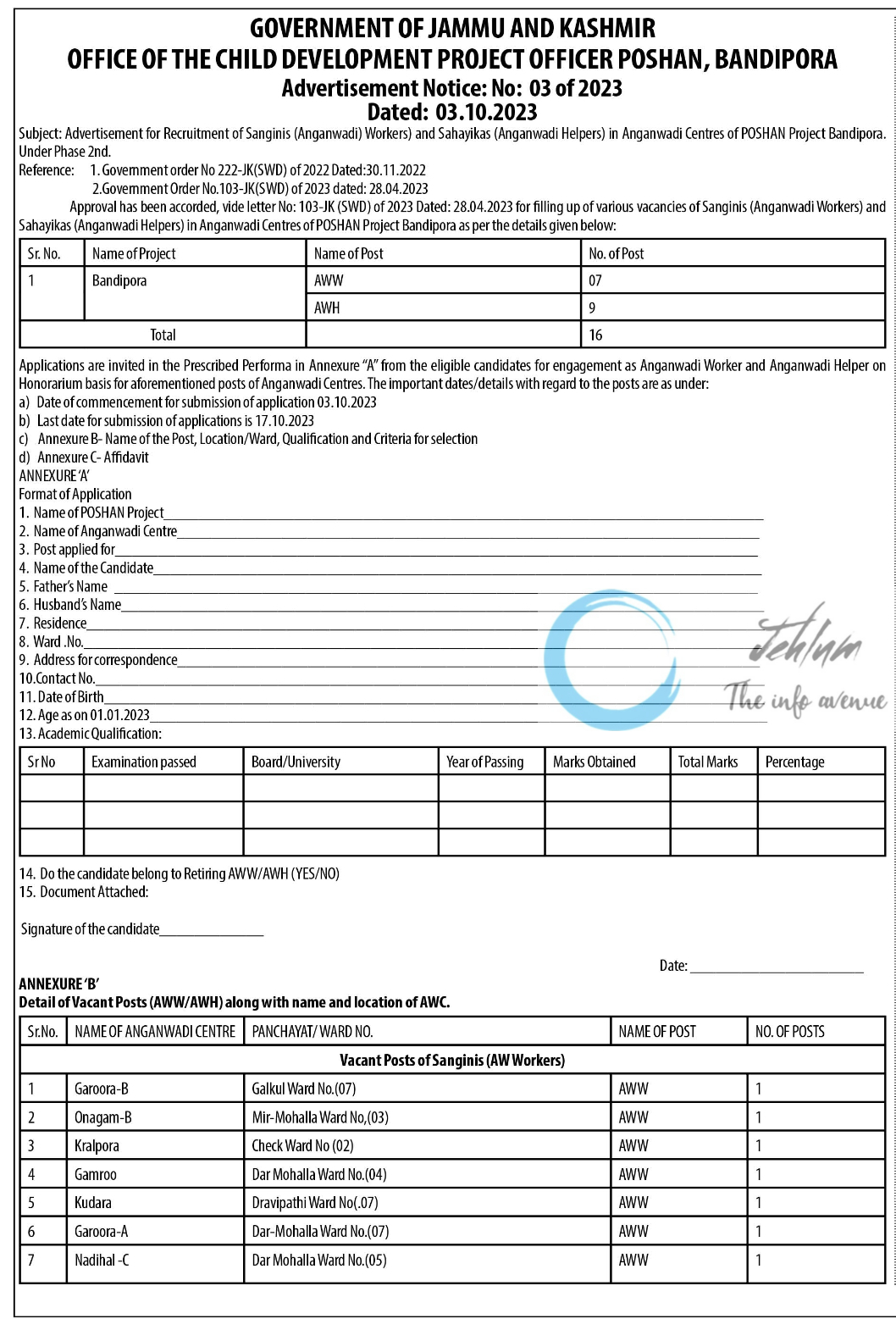 ANNEXURE A
Format of Application 1. Name of POSHAN Project
2. Name of Anganwadi Centre
3. Post applied for
4. Name of the Candidate
5. Father's Name 6. Husband's Name,
7. Residence
8. Ward No.
9. Address for correspondence
10.Contact No. 11. Date of Birth
12. Age as on 01.01.2023 13. Academic Qualification:
Sr No
Examination passed
Board/University
Year of Passing
Marks Obtained
Total Marks
Percentage
14. Do the candidate belong to Retiring AWW/AWH (YES/NO) 15. Document Attached:
Signature of the candidate
Date:
ANNEXURE'B'
Detail of Vacant Posts (AWW/AWH) along with name and location of AWC
Sr.No
.
NAME OF ANGANWADI CENTRE
PANCHAYAT/WARD NO.
NAME OF POST
NO. OF POSTS
Vacant Posts of Sanginis (AW Workers)
1
Garoora-B
Galkul Ward No.(07)
AWW
1
2
Onagam-B
Mir-Mohalla Ward No,(03)
AWW
1
3
Kralpora
Check Ward No (02)
AWW
1
4
Gamroo
Dar Mohalla Ward No.(04)
AWW
1
5
Kudara
Dravipathi Ward No(07)
AWW
1
6
Garoora-A
Dar-Mohalla Ward No.(07)
AWW
1
7
Nadihal-C
Dar Mohalla Ward No.(05)
AWW
1
CHILD DEVELOPMENT PROJECT OFFICER POSHAN BANDIPORA ADVERTISEMENT NOTICE NO 03 OF 2023
CHILD DEVELOPMENT PROJECT OFFICER POSHAN BANDIPORA ADVERTISEMENT NOTICE NO 03 OF 2023
CHILD DEVELOPMENT PROJECT OFFICER POSHAN BANDIPORA ADVERTISEMENT NOTICE NO 03 OF 2023
CHILD DEVELOPMENT PROJECT OFFICER POSHAN BANDIPORA ADVERTISEMENT NOTICE NO 03 OF 2023
CHILD DEVELOPMENT PROJECT OFFICER POSHAN BANDIPORA ADVERTISEMENT NOTICE NO 03 OF 2023
CHILD DEVELOPMENT PROJECT OFFICER POSHAN BANDIPORA ADVERTISEMENT NOTICE NO 03 OF 2023
CHILD DEVELOPMENT PROJECT OFFICER POSHAN BANDIPORA ADVERTISEMENT NOTICE NO 03 OF 2023
CHILD DEVELOPMENT PROJECT OFFICER POSHAN BANDIPORA ADVERTISEMENT NOTICE NO 03 OF 2023
CHILD DEVELOPMENT PROJECT OFFICER POSHAN BANDIPORA ADVERTISEMENT NOTICE NO 03 OF 2023
CHILD DEVELOPMENT PROJECT OFFICER POSHAN BANDIPORA ADVERTISEMENT NOTICE NO 03 OF 2023
CHILD DEVELOPMENT PROJECT OFFICER POSHAN BANDIPORA ADVERTISEMENT NOTICE NO 03 OF 2023
CHILD DEVELOPMENT PROJECT OFFICER POSHAN BANDIPORA ADVERTISEMENT NOTICE NO 03 OF 2023
CHILD DEVELOPMENT PROJECT OFFICER POSHAN BANDIPORA ADVERTISEMENT NOTICE NO 03 OF 2023
CHILD DEVELOPMENT PROJECT OFFICER POSHAN BANDIPORA ADVERTISEMENT NOTICE NO 03 OF 2023
Related


[ad_2]