[ad_1]

Gandhi Jayanti is celebrated on October 2nd every year to commemorate the birth anniversary of Mahatma Gandhi — the 'Father of the Nation'.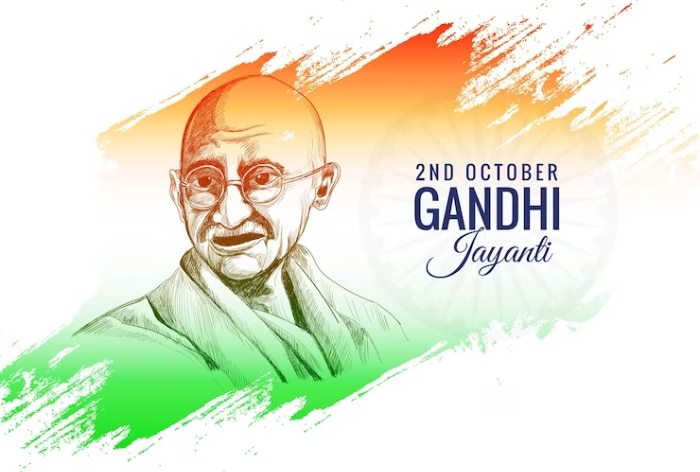 Gandhi Jayanti Quiz 2023: Gandhi Jayanti is celebrated on October 2nd every year to commemorate the birth anniversary of Mahatma Gandhi — the 'Father of the Nation'. This day holds great significance in India as it pays tribute to a man who played a pivotal role in our country's struggle for independence from British colonial rule. Gandhi Jayanti is a national holiday in India, and it is observed with great enthusiasm and pride across the country. On this auspicious day, several government and private Schools, colleges, government offices, and various organizations host special programs and events to honor the memory of Mahatma Gandhi. The United Nations General Assembly declared October 2nd as the International Day of Non-Violence on June 15, 2007.
On this occasion, India.com brings you a Gandhi Jayanti special quiz for all our readers and aspiring students. Let's celebrate Gandhi Jayanti by knowing it better. Can you answer these questions? Try it out!
1. Where was Mahatma Gandhi Ji born?
Porbandar
Ahmedabad
Delhi
Rajkot
(Answer: Mohandas Karamchand Gandhi was born in Porbandar, a town in Gujarat in western India on 2 October 1869.)
2. At the age of 19, Mahatma Gandhi went to which country to become a lawyer?
England
South Africa
United States of America
Ireland
3. Mahatma Gandhi used the term "Harijan" to address Dalits. What does it mean?
Children of God
Local child
Powerful child
Native children
(Answer: Children of God)
4. When was Gandhi Ji Assassinated?
30 January 1948
20 January 1948
15 January 1948
05 January 1948
(Answer: Mahatma Gandhi was assassinated on 30 January 1948 at age 78 in the compound of Birla House (now Gandhi Smriti), a large mansion in central New Delhi.)
 5. Who gave the title of  "Mahatma" to Gandhiji?
Rabindranath Tagore
Bipin Chandra Pal
Subash Chandra Bose
Gopal Krishna Gokhale
6. Where is the National Gandhi Museum and Library Located?
New Delhi
Kolkata
Chennai
Gujarat
(Answer: The National Gandhi Museum or Gandhi Memorial Museum is a museum located in New Delhi, India showcasing the life and principles of Mahatma Gandhi.)
7. Gandhi Ji started the famous Dandi March on which date?
April 15, 1934
June 25, 1932
September 12, 1930
March 12, 1930
(Answer: The Salt March began on March 12, 1930, and continued till April 6, 1930. It was a 24-day non-violent march led by Mahatma Gandhi.)
8. Another prominent leader and freedom fighter shares his birth anniversary with Mahatma Gandhi. Who is this leader?
Lal Bahadur Shastri
Sardar Vallabhai Patel
Bal Gangadhar Tilak
Rabindranath Tagore
(Answer: Lal Bahadur Shastri was born on October 2)
9. Which of the following books is a work by Mahatma Gandhi?
Hind Swaraj
Light of India
My Experiments with Truth
Both 1 and 3
(Answer: My Experiments with Truth and Hind Swaraj)
10. Mahatma Gandhi can be seen on major banknotes in India. When was the first series ever to include his portrait on Rs 10 and Rs 500 banknotes issued?
991
1992
1993
1996
(Answer: 1996)
11. Where was Gandhi detained during the Quit India Movement?
Yervada Jail
Aga Khan Palace
Ahmedabad Prison
Byculla Prison
12. Who wrote the book titled 'Waiting for the Mahatma'?
Mulk Raj Anand
R.K. Narayan
Ramachandra Guha
Premchand
(Answer: Waiting for the Mahatma is a 1955 novel by R. K. Narayan)
13. In late 1919, the Mahatma assumed the editorship of two publications. Name both.
Navjivan and Indian Opinion
Harijan and New India
Navjivan and Young India
Young India and Harijan
(Answer: Navjivan and Young India)
14. Where is Sabarmati Ashram located?
Navsari
Porbandar
Surat
Ahmedabad
(Answer: Ahmedabad)
15. For what was Mohandas Gandhi awarded the 'Kaiser-i-Hind Gold Medal' in 1915?
For his contribution to ambulance services in South Africa
For his contribution in India's Independence
For his contribution in Dandi March
All of the Above
(Answer: For his contribution to ambulance services in South Africa)


[ad_2]